Thousands of members across the country have already completed the new "COVID-19 Preparedness Qualification" and new "ICRA: Best Practices Awareness" online courses. These have helped our essential members learn best practices and be prepared to complete the work our country needs. For this initiative, you will also be receiving a Member Union Participation Program (MUP) credit for your participation. This MUP will be classified as a Journeyman Upgrade MUP which you are able to collect once a year. Those members that have already completed the COVID-19 training or another Journeyman Upgrade training, will be credited with their MUP as soon as possible and do not need to contact the union to receive it. If you need to complete your training follow the eight steps below.
BEFORE YOU REGISTER ONLINE MAKE SURE YOUR CURRENT EMAIL ADDRESS IS REGISTERED WITH YOUR LOCAL UNION OFFICE AND TRAINING CENTER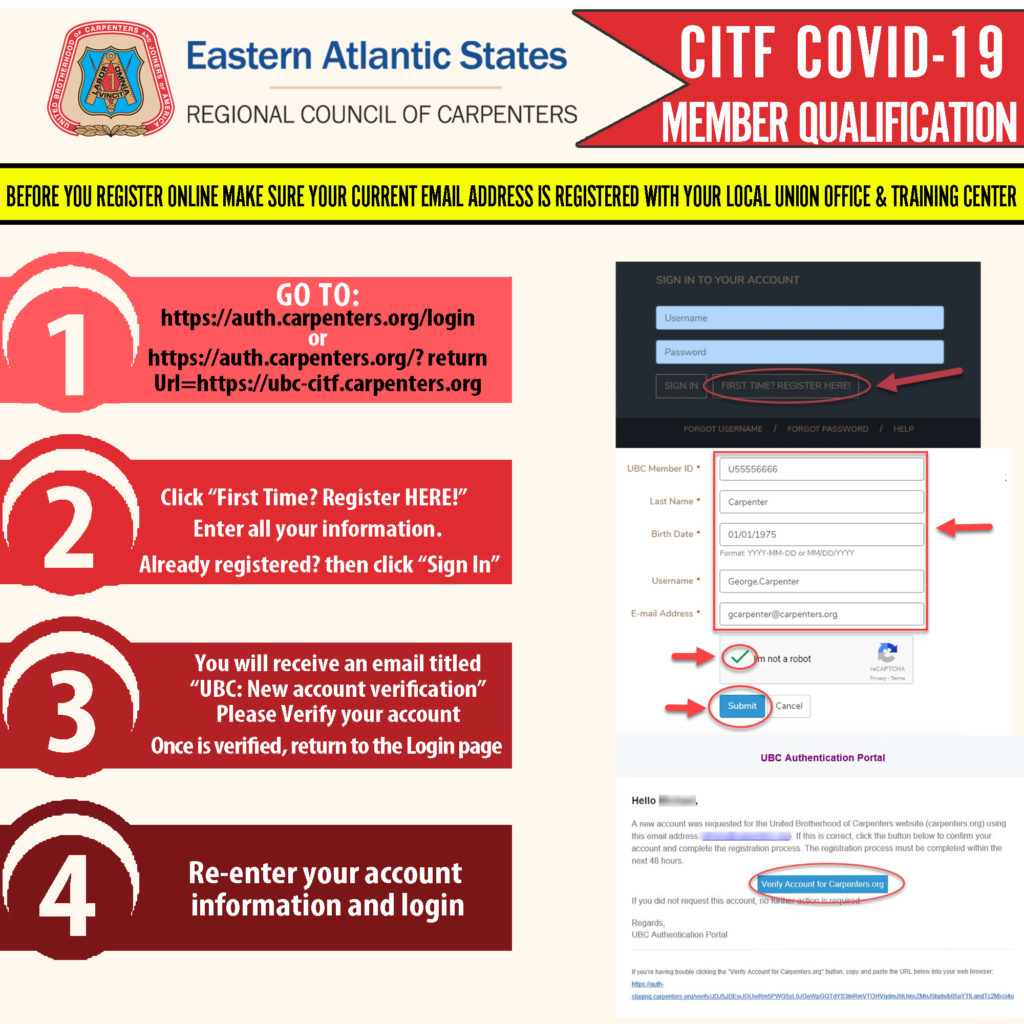 Members who are already registered with the CITF training portal can skip steps 1-4. If you are having difficulty with your your email being out of date, please call your Local's office so that an administrator can assist you. Our administrators have access to make an update to the system. This will not be automatic but can be quicker than using the UBC's email system. Once your email has been updated you can use your old password or create a new one.
Phone Numbers for Locals:
LU 158 – (215) 569-1634
LU 164 – (215) 568-2603
LU 167 – (610) 866-3030
LU 197 – (410) 355-5555
LU 205 – (804) 743-7458
LU 251 – (732) 417-5777
LU 252 – (215) 569-1634
LU 253 – (201) 457-9232
LU 254 – (732) 225-7210
LU 255 – (609) 567-0400
LU 420 – (412) 922-6200
LU 423 – (814) 693-0315
LU 426 – (717) 273-5277
LU 431 – (717) 273-5277
LU 432 – (412) 922-6200
LU 436 – (304) 842-5431
LU 439 – (304) 342-3004
LU 441 – (412) 922-6200
LU 445 – (570) 347-5891
LU 491 – (410) 355-0011