The offshore wind industry is taking off in the country, and the Eastern Atlantic States Regional Council of Carpenters is leading the way by training this next generation of construction workers.
Mariah Dignan, the Labor Liaison for Community Offshore Wind, a JV of RWE & National Grid, toured the EAS Carpenters Expanded Heavy Construction, Piledriving and Offshore Wind training facility in Hammonton, New Jersey as well as our  EAS Carpenters Dive School in Sicklerville, New Jersey.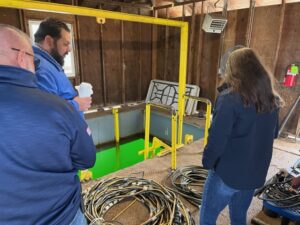 "The Eastern Atlantic States Regional Council of Carpenters is leading the way in creating premier training programs and facilities for the offshore wind & clean energy workforce in the near future," said Dignan.
These training facilities will provide carpenters from across the country with the foundational skills needed to aid in the expansion of the wind energy industry and infrastructure work, including concrete formwork, pile driving, rigging and more.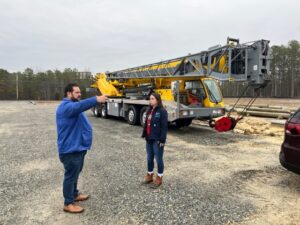 "This training center [Hammonton] gives us the capability to have the best-trained workforce in the market," said EAS Training Coordinator Tim Warning. "It gives our contractors the competitive edge to bid on any job and win more work."
The EAS Carpenters are leading the country regarding the commercial diving training needed for the infrastructure and offshore wind projects that will begin soon. This is the only union dive school in the country and the only commercial dive school east of the Mississippi river. 
"Community Offshore Wind is grateful for the opportunity to tour the Hammonton Training Center and the state-of-the-art dive school in addition to discussing possible career opportunities for UBC members," said Dignan.