It is with a heavy heart that we inform the Brothers and Sisters of the Eastern Atlantic States Regional Council of Carpenters of the passing of Council Representative Jum-Mor Mackell.
Jum-Mor was a proud 22-year member of our union, beginning his apprenticeships in 1999. He was involved in many aspects of Union business, including acting as Warden for Local Union 197 during his career. For the past five years, Jum-Mor was a devoted Council Representative committed to organizing and standing up for Union rights in the Baltimore area.
In addition to his responsibilities as a Council Representative, Jum-Mor was a notable community servant who always took the time to connect his Union with local organizations that were looking to better the lives of working people.  In 2019, he was honored as the Community Champion Award Winner by the Belair-Edison Community Association for his volunteer efforts.
Anyone who knew Jum-Mor knew he enjoyed spending time with family and friends, playing chess, riding his motorcycle, and rooting his beloved Washington Redskins.
Our thoughts are with his wife Nakia Shae and their children Kierra, Jael, Wayne, and Amiyah during these difficult times. He also leaves behind an older sister, three younger brothers, and two step brothers.
Information is provided below for anyone looking to pay their respects to the family and celebrate Jum-Mor's life.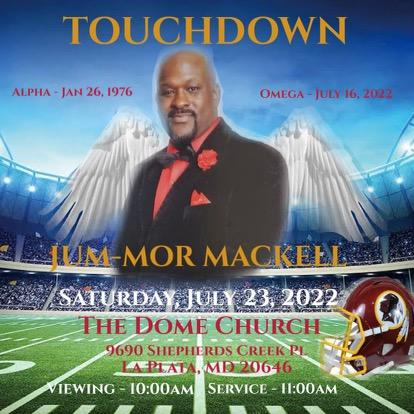 Saturday, July 23rd
The Dome at NEWLIFE Church
9690 Shepherds Creek Pl
La Plata, MD 20646
Visitation
10:00 AM
Service
11:00 AM