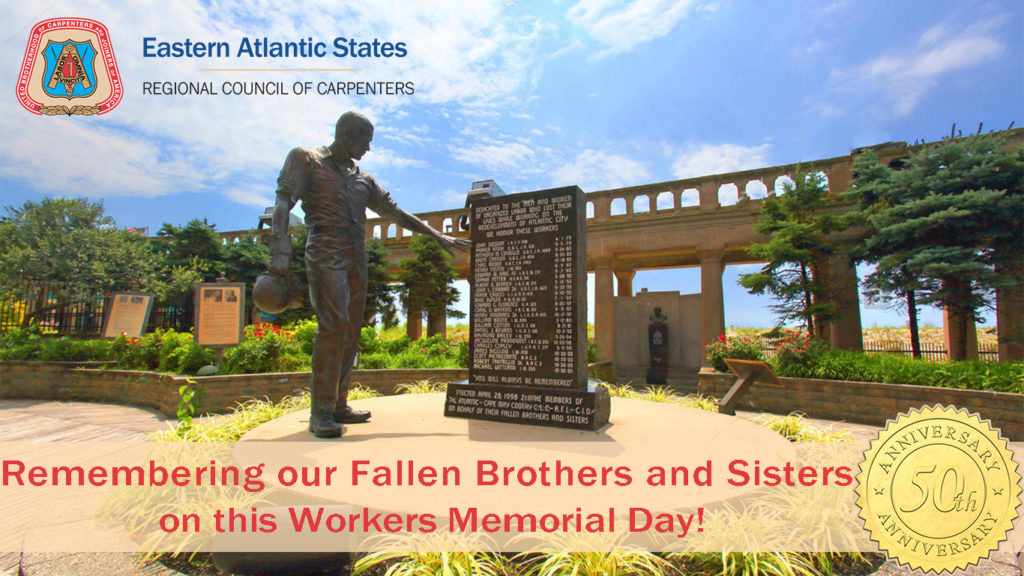 Dear Members,
It is on this day that we come together to commemorate all of the lives that were lost in construction. Fifty years ago today, Workers Memorial Day was established and its importance has not diminished. For all those fallen Brothers and Sisters who weren't able to make it home safely to their families and loved ones, we salute and remember you.
Our members are what being in a Union is all about. Building hospitals, power plants, infrastructure, offices, and more are some of the most crucial types of construction our country needs in order to operate. Now more than ever with the COVID-19 pandemic, the safety of our members on these job sites is a top priority. Early mornings, late nights, tough and physical labor, harsh weather and dangerous conditions, union carpenters are essential and ready for the job. They don't make excuses, are reliable, dependable, have integrity and most importantly, they don't take anything for granted.
This day provides us with an opportunity to fully appreciate our fellow carpenters and the sacrifices they made to ensure a safer work environment for all workers. So many union brothers and sisters have lost their lives throughout the years and they are in our hearts and memories every day, especially on this day.
If you are on a construction site today, or at home with your loved ones, make sure to remember the importance of worksite safety and keep the memories of the brothers and sisters who lost their lives. A casualty can happen at any moment and it can happen in the blink of an eye. Cherish those you work with, your family, and remember that we are all in this together.
Fraternally,
William C. Sproule 
Executive Secretary-Treasurer
Eastern Atlantic States Regional Council of Carpenters