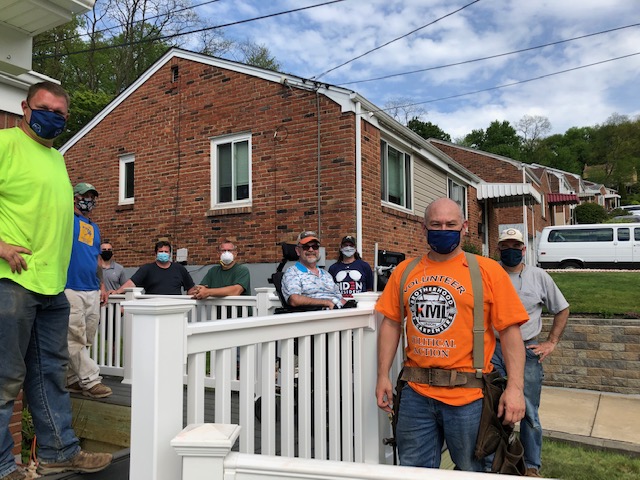 Being a part of the Union, you take pride in helping out your community, especially when fellow union members are in need. Retired member Jack Dean is a shining example of this and committed 52 years of his life to ensure a brighter future for the next generation of carpenters. Unfortunately, Dean was recently diagnosed with Amyotrophic Lateral Sclerosis (ALS) and needs to now utilize a wheelchair. Jack devoted most of his life to the Union and many of our members decided to pay him back.
Sam McPherson of Local 251, reached out to Tom Bender, Council Rep. of Local 432, with the idea to build an access ramp and from there, Sam contacted members from around the area who knew Jack and were interested, as well.
"I was glad to see so many excited to help out and provide Jack with a ramp, so he could access his back porch for the first time in almost a year," explained Sam, "Jack is an avid sportsman, he could watch the wildlife roaming in his backyard again."
Jack has been a well respected member of the EASRCC throughout his tenure within the Union, even by those who never met him.
"Jack was instrumental in creating standardized curriculum across the region, and the UBC as a whole," explains Bender, "He even continued to assist in completing the curriculum after his retirement, giving up thousands of Saturdays in his career to our organization, in order to train the next generation of Carpenter."
Sam and Tom proposed their idea to Jack and his wife and without any hesitation, were thrilled to have this done. Tom put a plan together, designing the deck and ramp, providing his power tools, hand tools, equipment, etc.
Frank Koch, Senior Council Rep, and Local 251 member made sure the Eastern Atlantic States Regional Council of Carpenters Executive Board was made aware as well
"When I heard that he needed a ramp after all the years he gave to our Brotherhood, it just felt right giving back to someone in need and our Executive Board agreed," stated Koch.
20 members showed up to help with this project. They not only wanted to help construct this ramp for their fellow brother and mentor but also wish him well.
"There were a couple times during the day that I had to pause and look around at the 20 guys working so hard to help a brother in need … it was truly heartwarming," stated Local 432 Council Rep. Doug Martin.
"We were able to establish the elevation transitions, install all the rim boards for the deck, have a square project for the volunteers to install joists, decking and handrails," said Bender, "I knew that we were going to have a lot of help Saturday morning, and didn't want people to have to stand around and wait to help."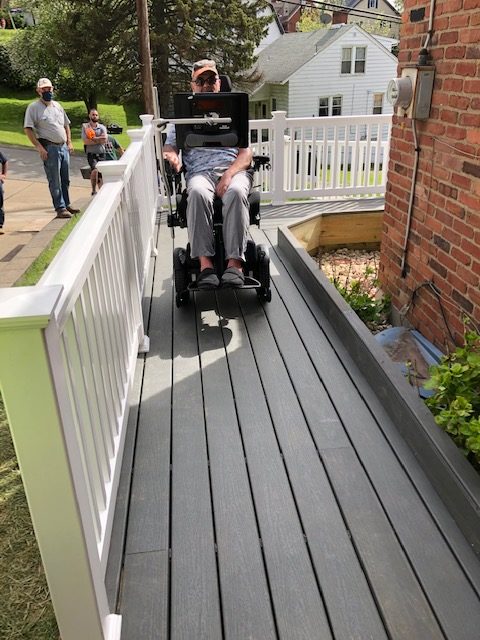 Assembling this ramp for Jack was special for many of the volunteers, solely due to Jack being a mentor to most.
"He was my predecessor (tutor) to my current job as Training Coordinator and remains a good friend to this day," says Dan Solomon, 39-year member for Local 251.
"Being a good Union Member goes beyond showing up for work, paying your dues, sitting in the seats at the Union meetings. It requires all of us to get involved, to be productive members of OUR organization. It's giving back to the members that made OUR organization what it is today, especially in their time of need. It's getting involved to keep OUR organization at the forefront of the trade unions. My hope is that this ramp will give some of that freedom back to Jack. For all that Jack has given to the UBC, I feel we owe him this ability to find some tranquility," stated Bender.
Below are a list of some of the volunteers who provided their time and skills:
Sam McPherson
Doug Martin
Mike Welsh
Bob Graswick
Dan Solomon
Al Garrett
Joe Betts
Bob Laskovich
Ray Bening
Roy Patton
Frank Freker
Mark Yorio
Cary J Barry
Steve Paull
Rob Brophy
Joe Winter
John Kerelitch
Sean Sciulli
Bill Finnigan
Tom Bender