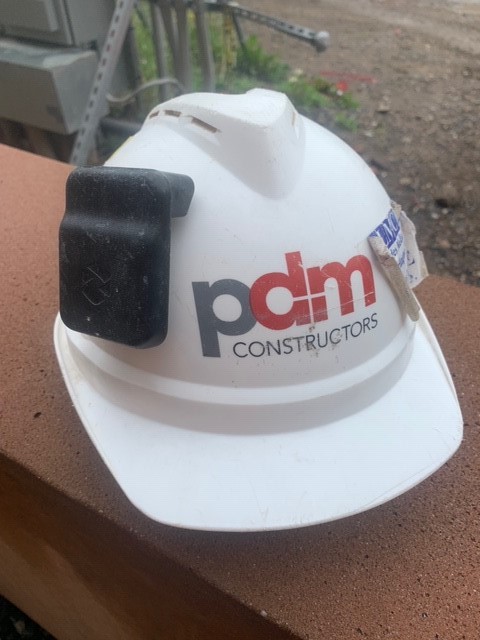 The essential nature of the construction industry demands an evolution in how business is done so projects can still be completed on a timely basis and safely. Advances in Personal Protective Equipment (PPE) and mandatory social distancing protocols are a necessity. While COVID-19 is still a complication worldwide and no vaccine is in sight, the urgency to institute new arrangements onto all construction sites is paramount. The developers, contractors, and union members at the Philadelphia Live Casino Project in South Philadelphia are leading the way with the use of "Proximity Trace" created by Triax Technologies.
"It was decided that the use of the Proximity Trace would maximize social distancing awareness while providing the ability for contact tracing if necessary," explained Raymond Apice, Sr. General Superintendent for Gilbane Building Company.
Proximity Trace, otherwise known as Trace Tag, is issued to all carpenters on a job site, either attached to a hard hat or as a lanyard. If someone were to come within 6 feet, the device would beep until that person has adjusted their distance. This new technology, in addition to the Carpenters Union COVID-19 Preparedness Training, will go a long way in worker safety.
"The Triax system was important to us because it gave us a little security of knowing that if there were an outbreak, we would know if we were near the person infected and we could seek help as needed," stated Bobby Johnston, Local 158 Carpenters Shop Steward, "In fact, we were forced to use it once when a worker got sick and, we had the opportunity to alert those who worked alongside him."
Social distancing from your fellow carpenters isn't manageable 100% of the time. Projects often require a few sets of hands, making it challenging to remain 6 feet apart. However, those who aren't working together, the Proximity Trace will benefit them the most.
"I've been a Project Superintendent for 42 years on a wide variety of projects, but nothing compares to what we are experiencing now as we try to navigate through this pandemic," Apice explained, "All carpenters are doing their best to comply with the many COVID preventative measures. They continue to work hard, be productive, and the project is progressing well."
Although the Trace Tag's most timely objective is to alert those who aren't social distancing, the device also identifies who an individual, with a confirmed case of COVID-19, came in contact with. The system logs headcount, interactions, etc., directly to the Cloud, where an operator can oversee all carpenters on a mobile device. Being able to identify where it derived can save lives.
"Gilbane as a company has higher standards regarding project safety," said Apice, "Since the onset of the virus, Gilbane has worked closely with the Building Trades Council, the Eastern Atlantic States Regional Council of Carpenters (EASRCC), and the General Building Contractors Association (GBCA) to keep each other informed and to establish guidelines for preventing the spread of the infection, while continuing to perform work. The goal and the result of this collaboration have produced a COVID-19 work plan, that goes beyond the CDC and the City of Philadelphia guidelines and recommendations."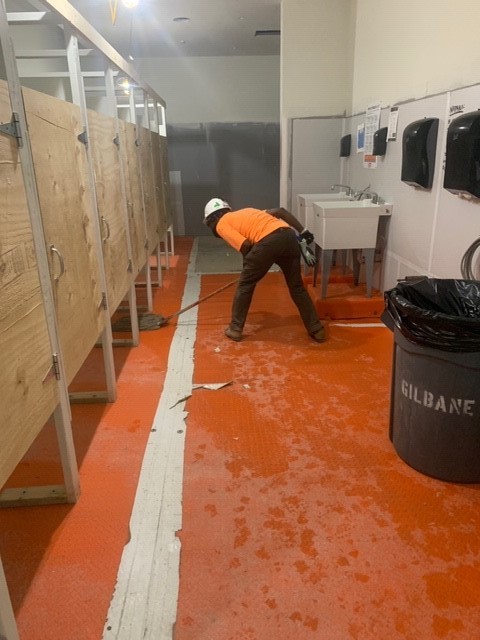 Worker safety is always most important and is taken seriously on the job site.
"The Roadman (Mike Jackson), Superintendent ( John Fitzpatrick), Safety Foreman (Toy Allen) and myself as Shop Steward, were in constant contact with each other and kept the men as updated as possible. Nothing was hidden, and even before the Government shut job sites down, PDM Construction offered its employees the chance to stay home with no future ramifications. 'Your job will be here when this is over.' That was huge for many people on the site," said Johnston.
"We're rolling this out at our active sites, and we're excited about the role it could play in keeping workers safer at those sites," stated Jason Pelkey, Senior Vice President – Chief Information Officer of Gilbane Building Company, on their website.