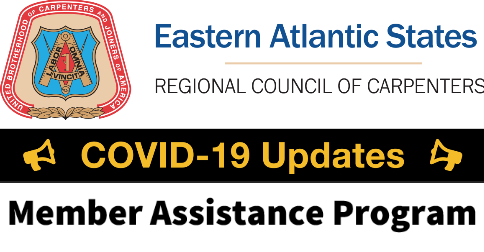 As the world has been crippled by the Coronavirus pandemic, the Eastern Atlantic States Regional Council of Carpenters (EASRCC) is committed to supporting its membership during this difficult period. Through our Member Assistance Program (MAP), the Council's Executive Board recently voted to make a significant infusion of financial resources to assist as many active members as possible, as well as broaden eligibility rules during the Coronavirus pandemic. During this period, the MAP will operate under the following eligibility rules:
EVERY ACTIVE MEMBER of the Council unemployed by the Coronavirus will be eligible for MAP assistance. Retirees are NOT eligible for this assistance program.
EVERY ACTIVE MEMBER who applies will have their current dues obligation paid through October, 2020, EXCEPT those members who are in arrears will receive six (6) months dues paid.
EVERY ACTIVE MEMBER who applies will be eligible for a $100 hardship payment.
ANY ACTIVE MEMBER who has received a prior MAP payment in the preceding 12 months would not be barred from putting in a new claim.
One of the strengths of our organization is in the ability of each of us to be there for one another in good and challenging times. We hope that we will swiftly get through this unprecedented time in our nation's history, all safe and healthy, so that we can continue to build up our region.
Visit our MAP Page or email the completed application below to MAP@eascarpenters.org. Should you have any questions on the changes to the program, please reach out to MAP Committee Chairman Pete Gowing at PGowing@eascarpenters.org or sshaughnessy@eascarpenters.org