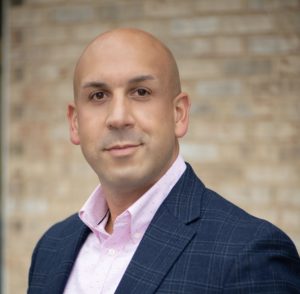 Anthony Abrantes is the Assistant Executive Secretary-Treasurer for the Eastern Atlantic State Regional Council of Carpenters, which represents nearly 42,000 Union Carpenters from, New Jersey, Maryland, Delaware, Pennsylvania, Washington D.C., Virginia, West Virginia, & Puerto Rico.
Anthony helps oversees the day-to-day operations of the regional council, its departments, 18 training centers, 172 staff members, 22 local unions, & 15 regional offices.
Abrantes has served the Council as a Council Representative, Senior Council Representative, Political Director, and most recently Director of Organizing for the Eastern Atlantic States Regional Council of Carpenters. Abrantes has a B.A. from Montclair State University in Sociology with an emphasis in Justice Studies. Prior to joining the United Brotherhood of Carpenters and Joiners of America as a carpenter, he interned as an investigative analyst with the New Jersey Office of Attorney General's Division of Criminal Justice – Organized Crime and Racketeering Bureau. Abrantes also has served his Union and labor causes as an Executive Board Member for the Eastern Atlantic States Regional Council of Carpenters, Trustee for the Northeast Carpenters Funds, Trustee for the Carpenters Contractor Trust, Delegate for Local Union 254, Trustee for the Carpenters Benefits Fund of Philadelphia & Vicinity, and President Emeritus for the Northwest Jersey Central Labor Council.
Anthony has been a strong influence in his community servings as Commissioner for the Morris County Park Commission Board of Trustees member for Union County College Foundation, Board Member of the Cornerstone Family Programs, Co-Chair for the Morris County Alliance for Action, Board Member member for Morris County Planning Board, Trustee at the Morris County Building and Construction Trades Council, Board Member for Parsippany Police Athletice Association, Board Member for the Morris/Sussex/Warren Workforce Development Board, and a Board Member for the Morris County Economic Development Committee. Anthony has also been recognized as the 2021 Boy Scouts of America Distinguished Citizen Award – Labor, Construction & Real Estate, and listed on the Insider New Jersey Labor 100 Power List.
An Essex County native he has been in Morris County for last 30 years and now resides in East Hanover, NJ with his wife, Nicole and their two children, Nicolette and Anthony Jr.