A historic partnership was recently created as Eastern Atlantic State Carpenters Technical College became a Global Wind Organisation certified training provider. The Eastern Atlantic States Regional Council of Carpenters, which operates the Technical College, is the first trade union in the United States to achieve this certification. GWO certification is vital to ensure the safety of union apprentices and workers in offshore wind energy construction.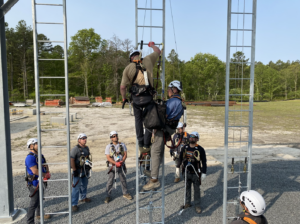 "We are excited to work with Global Wind Organisation, as the first trade union to become a certified GWO Training Provider in the US," said Executive Secretary Treasurer William C. Sproule. "Our priority is safety and providing our training instructors with GWO certification is a necessity in our endeavors to provide the offshore wind industry with the safest and most productive American workers available."
The Eastern Atlantic States Carpenters Technical College has been preparing for several years to meet the demand of manpower within the wind industry on the East Coast. They opened the first union Commercial Dive Center as part of the Technical College in 2022. The state-of-the-art facility is the only dive center east of the Mississippi River and utilizes five diving stations on the 25 acre lake outside the classroom setting.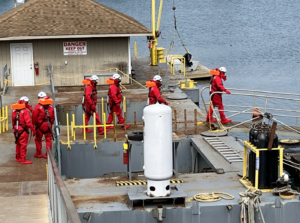 "We are excited to have more unions join the list of GWO training centers in the US," said Dan Ortega, GWO's North America Representative. "The Eastern Atlantic States Carpenter's Technical College is well positioned to deliver world class safety training for their union members working in the growing offshore wind industry.  I'm eager to see how they will share their learnings and curriculum development with the other training centers within their union network.  This industry is growing rapidly, and we need more competent, capable, and SAFE workers, and the trade unions are well positioned to meet much of this demand."  Ortega continued.
GWO's Basic Safety Training (BST) includes safety training in first aid, fire awareness, sea survival, manual handling and working at heights. These training standards are created to reflect the risks workers will face and produce an even safer work environment. The EAS Carpenters Technical College will be offering the GWO BST from this summer. Approximately 144 members are expected to begin the training.
"The ability to provide this certification for our instructors provides us as a Technical College the ability to be leaders in training for this emerging industry," Rob Smith Executive Training Director for the Eastern Atlantic States Carpenters Technical College, "GWO has been an amazing partner through this all and I am excited to see our members complete this training and earn great wages because of it."