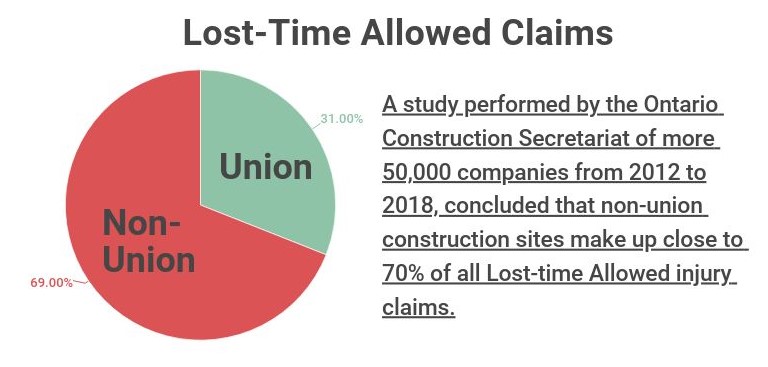 We all already know that the members of the Eastern Atlantic States Regional Council of Carpenters and UBC Carpenters from around the US and Canada are the safest, best trained, and most skilled workforce in the country. Some more proof of this has just been published.
The Ontario Construction Secretariat has concluded research over a 6-year span from 2012-2018 that proves union job sites are safer. The study found that lost-time injury claims to the Workplace Safety and Insurance Board (WSIB) were about 70% more likely to happen on non-union building job sites. Additionally, there are 29% fewer severe injuries on union job sites. These are staggering numbers based on research from 50,000 companies and 1.7 million construction workers. However, it is drawn up, working safer saves time and lives.
The study points to the top tier training and apprentice program for these numbers. Union Apprentice programs help worksites employ more apprentices to learn from journeymen carpenters in the field and hone in better safety training. "Strong partnerships make for safer workplaces," stated Wayne Peterson, Executive Director of the Construction Employers Coordinating Council of Ontario.
Safety is the number one priority on a construction site for many reasons, but the number one reason is to ensure everyone gets home safe at night to family.
Click HERE to read more.