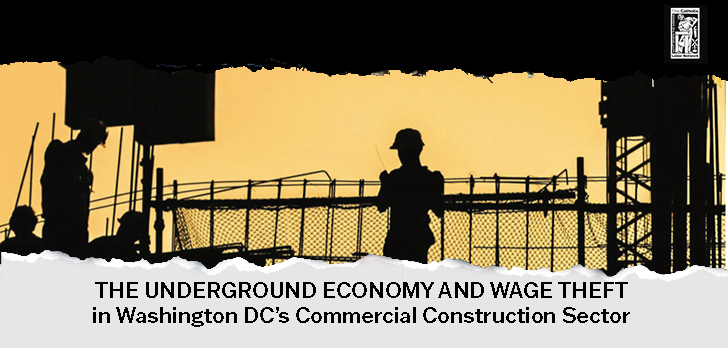 The District of Columbia is prominent for its underground economy and rampant misclassification and wage theft cases. The Eastern Atlantic States Regional Council of Carpenters have fought to extinguish the unscrupulous contractors for decades, only to be fighting an uphill battle and making very little progress along the way.
"The Construction Industry in the District of Columbia features an extensive underground sector in which workers are misclassified as independent contractors or paid in cash off the books," said Clayton Sinyai, Executive Director of the Catholic Labor Network. "Denying the public necessary tax revenue and denying workers the protection of wage and hour laws."
The Catholic Labor Network on Wednesday, April 14th, 2021 announced the release of a new Wage Theft Report at a Press Conference at Freedom Plaza in the District of Columbia.
The Report, The Underground Economy and Wage Theft in Washington D.C's Commercial Construction Sector, found that nearly 50% of all construction workers surveyed by the Catholic Labor Network and their partners were part of the underground economy. They also found that 47% of those surveyed received no tax deductions in their paychecks, or are strictly paid cash. This study was conducted with extensive surveys and interviews with construction workers in Washington DC, including workers being paid less than minimum wage, payroll tax missing from payment, and overtime violations.
"This is not the first study, this is the third that I am aware of and all end with the same results," said Robert Burns Regional Manager for the Eastern Atlantic States Regional Council of Carpenters. "Workers are being exploited here in the DC Metro area and it's time for it to end."
Clayton Sinyai and the Catholic Labor Network have supported the fight to bring justice to the workers and local economy in The District of Columbia. Spreading awareness through many avenues, including a Press Conference is how more attention will be drawn to the staggering effects that come with these unscrupulous acts. "These issues are severe and take advantage of the most vulnerable in the construction industry as well as the average everyday taxpayer," said Communication Director for the Eastern Atlantic States Regional Council of Carpenters, Frank Mahoney.
To view the Press Conference, click HERE.